Public Safety

Photo credit: Pierre-Olivier Girard – « Violent incendie sur le lac Memphrémagog » (photoreportage), Reflet du Lac, 19 mars 2014
For an emergency, dial 9-1-1
Police
Police services in Austin are delivered by the Memphremagog Police. It is also empowered to apply the municipality's by-laws.
For information and non-urgent situations:
66 chemin Southière
Magog, QC
J1X 0P1


 819 843-3334
www.policememphremagog.com
---
Fire Department and First Responders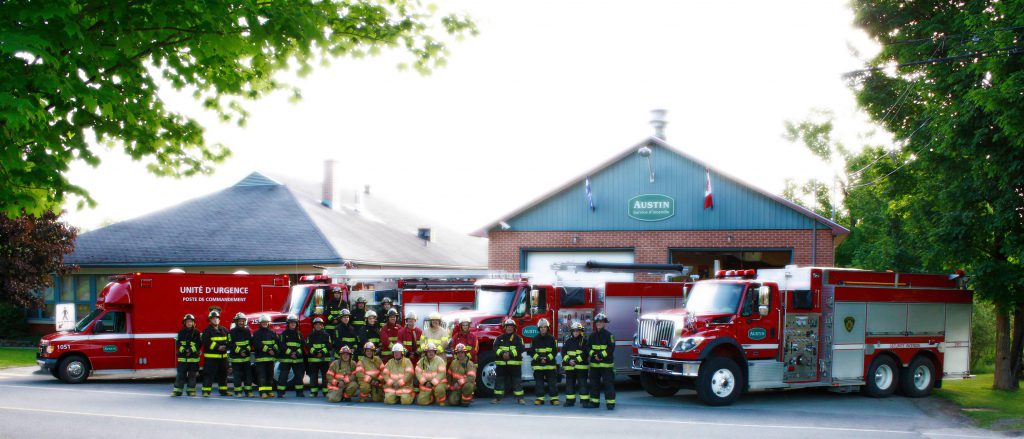 Every year, the volunteer firefighters and first responders of Austin respond to an average of 170 calls. They cover Austin as well as the municipalities with whom an agreement for fire protection services has been signed (East Bolton and Saint-Benoît-du-Lac), and provide mutual assistance to other surrounding municipalities.
Are you interested in joining our team as a volunteer firefighter and/or first responder? Let us know!

Municipal office:

21 Millington Rd., Austin, QC J0B 1B0
  819 843-2388
  info@municipalite.austin.qc.ca
Burning permits (open fires)

It is prohibited for any person to light a fire, to have a fire lit or to allow a fire to be lit, without having first obtained a burning permit.

To get a permit:

Call  819 843-0000 between 8 a.m. and 10 p.m., 7 days a week
A recorded message will confirm your authorisation to light a fire, or will prohibit you from lighting one if the day's meteorological conditions are adverse.
You must leave your name and the exact address where the fire is to be lit. The recording is proof that you obtained a permit and enables the competent authorities to enforce municipal regulations.

The permit is free of charge, but it is valid only for the day on which you get it.

False alarms

A minimum of 6 to 8 volunteer firefighters – and often the entire brigade – respond to each call, including false alarms, which incur supplementary costs to all taxpayers.

After a first false alarm, the property owner, renter or occupant of a dwelling receives a warning to enable him to correct the problem. However, if a second false alarm occurs within twelve months of the first one, he is liable to a minimum fine of $250.

Fire stations

There are two fire stations in Austin, so  the majority of citizens live within 8 km of a station.

23 Millington Rd. (village centre)
483 North Rd. (north end)

External Automated Defibrillators are installed outside both fire stations for public use.

Safety inspections

The Fire Department visits each residence once every 7 years to perform a safety inspection (inside and out). The inspection includes a check:

·       of all smoke detectors and carbon monoxyde detectors

·       of the electrical system

·       of the heating system and heating apparatus

In 2019, the homes located on the following road will be inspected :

Davidson, de la Descente, des Deux-Montagnes, des Diligences, Dingman, Dufresne, Duval, de l'Écureuil, des Épervières, des Épinettes, des Érables, de l'Étang, Fisher, des Fleurs, des Floralies, des Fougères, des Framboisiers, des Frênes, Galvin, des Geais-Bleus, Gendron, des Genévriers, Glassford, du Glenbrook, des Goélands, du Grand-Bouvier, du Grand-Pic, des Groseillers.
Emergency preparedness

Ice storms, blizzards, floods, strong winds : the interval between extreme weather occurrences shrinks constantly and Austin is not immune!
In case of a disaster, you are first responsible for your security.
Be ready!
To ensure your security and that of your family and property, it is up to you to be prepared:
Don't forget to prepare an emergency kit for your pet!