Elections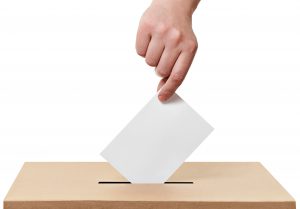 In Austin, there are no electoral districts. Consequently, all members of Council represent the entire population. Austin's Council is comprised of one Mayor and six Councillors.
The next general election in Austin will be held on November 7, 2021. The Municipality will keep the population informed throughout the different phases of the electoral process, including the nomination period and the recruitment of electoral personnel.
At the end of February, electors whose principal residence is not in Austin will be invited to apply to have their name entered on the list of electors (unless they have already done so for a previous election). An information sheet will be sent along with the annual tax bill.
Important Dates
| | |
| --- | --- |
| 17 September to 1 October | Nomination Period |
| 31 October | Advance Poll |
| 7 November | Election Day |
Candidates

Are you thinking of running for municipal office?

The ministère des Affaires municipales et de l'Habitation (MAMH) has created a comprehensive guide intended for citizens who are thinking of running for municipal office.

To be eligible for office as a member of Council, you must:

be entitled to have your name entered on the list of electors of the municipality (this does not mean that you must actually be entered on the list);
have resided, continuously or not, in the territory of the Municipality for at least 12 months on September 1st 2021.

To be entitled to have your name entered on the list of electors, you must be an elector of the Municipality on September 1st of the year of the election, meaning:

you are of full age (18 years old) on November 7, 2021;
you are a natural person;
you are a Canadian citizen;
you are not under curatorship;
you have not been convicted of an offence that is a corrupt electoral practice in the past 5 years;
AND
you meet one of the following conditions:

you have been domiciled in the territory of the Municipality, and for at least 6 months in Quebec;
OR
you have been, for at least 12 months, the owner of an immovable or the occupant of a business establishment situated in the territory of thr Municipality.

Nomination papers will be available at Town Hall as of September 24, 2021. The deadline for filing a nomination is Friday, October 1st, 2021 at 4:30 p.m.

Electors

ELIGIBILITY

To be entitled to have your name entered on the list of electors for the 2021 general election,  you must:

be of full age (18 years old) on November 7, 2021;
be a natural person;
be a Canadian citizen;
not be under curatorship;
not have not been convicted of an offence that is a corrupt electoral practice in the past 5 years;
AND
meet one of the following conditions:

you have been domiciled in the territory of the Municipality, and for at least 6 months in Quebec;
OR
you have been, for at least 12 months, the owner of an immovable or the occupant of a business establishment situated in the territory of thr Municipality.

ENTRY ON THE MUNICIPAL LIST OF ELECTORS

Persons whose principal residence is in Austin:

Generally, persons who are domiciled in Austin (and for at least 6 months in Quebec) do not have to take any steps to have their name entered in the list of electors.

The domicile of a person, for the exercise of his civil rights, is at the place of his principal establishment.  – Civil Code of Quebec, art. 75

Persons whose principal residence is not in Austin:

Persons whose principal residence is not in Austin must register to have their name entered on the list of electors. Please use the form corresponding to your situation:

If you are the sole owner of an immovable or the sole occupant of a business establishment, you must file an Application for entry (form SMR-9.2-VA).
If you are the co-owner of an immovable or the co-occupant of a business establishment, you must designate amongst yourselves one person whose name will be entered on the list of electors, by means of a Power of Attorney (form SMR-9.1-VA) signed by the majority of co-owners or co-occupant.

The Applications for entry and Powers of Attorney remain in force for all future elections and referendums, unless a change occurs (i.e.: withdrawal by the elector of the application or power of attorney, move, construction of a new residence, changes to property titles, death of the designated co-owner or co-occupant designated, etc.).

Applications for entry and Powers of attorney, duly completed and signed, must be filed at the Municipal Office at latest on October 3, 2021. Documents received after that date will be processed by the Board of Revisors.  After the work of the Board of Revisors is completed, entry on the list of electors for the 2021 general election will be denied.

Election Results

Results of the 2017 General Election

Number of electors :    1,546

Mayor's office :
Voter turnout :              61.9 %
Valid votes :                   950
Spoiled ballots :             7